Would you like to eliminate clutter but feel stumped as to how or where to start?
Is money tight? "The Clutter Queen Spills!" is your affordable solution, letting you take on an uncluttering project all by yourself! This 133-page self-help guide was written specifically for busy women and their organizing issues. Featured on radio and TV, Clutter Queen Barbara shares her decade of professional organizing knowledge and experience to help readers accomplish uncluttering missions easily with a wave of her magic wand.
Whether you're a woman living alone or a mother of six, this eBook will show you how to unclutter one room or the whole darn house and laugh throughout the process! With 3 simple self-help steps and inspiring stories about actual clients (people just like you), you will:
Reduce stress and anxiety
Save time, energy and money
Boost productivity
Create more space!
Whether you're just a wee bit messy or a borderline hoarder, this guide will answer your prayers by transporting you from Hell into Heaven so you can relax and enjoy your home to its full potential.
"I recommend this great book to everyone, whether pack rat or neat-freak.
The pack rat will quickly learn how to unclutter, the neat-freak will learn
new ploys - and both will have fun reading it."
~ Lea Tassie

"I loved your book! I had trouble putting it down to get things done.
You have written it with wonderful humour."
~ Margot Watson
Did you know that you don't need an eReader to download eBooks? You can either read it online or download it onto any PC (most convenient when located onto your Desktop). For reader help, click the "Support" link on my book page.

Barbara has also written an eBook story for 7-12 year-old children. "The Bandit Cat Investigation" is about the adjustment of twins, Ben and Zoe O'Reilly, after they are forced to move from the country to the city with their thieving cat Purrsnikitty.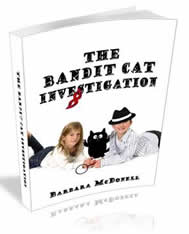 Just $2.99 US!
Synopsis
Life is suddenly changing for nine-year-old Zoe and Ben. The O'Reilly twins are moving from their house in the country to a city home in a neighborhood they know nothing about. Saying goodbye to friends and leaving familiar surroundings is tough and they don't want to go.
There are no woods near their new house and no kids on the new street either. Zoe and Ben are also worried about their cat, Purrsnikitty, who is famous for chasing cows and herding sheep. How will he adjust to city life? Soon, Purrsnikitty begins to disappear. He returns home every day with weird gifts, like a map and an eagle feather. Where is Purrsnikitty getting his loot? Why is he dragging it home? Has their oddball country kitty turned into a city bandit cat?
Determined to solve the bandit cat mystery, Zoe and Ben investigate. When Purrsnikitty gives a huge yellow maple leaf to a stranger, it triggers an exciting chain of events. In the process, the twins meet new neighbors, make new friends and learn that life in the city can be just as much fun as life in the country.
READER REVIEWS
"Clever writing with many life-lessons and discoveries for children in the 9 to 12 age group. Barbara's use of words is descriptive and delightful. She is obviously a cat lover and understands how a feline can take over a family. Lots of action with the children learning to empathize, and to help their immediate family and others around them. Refreshing, somewhat old-fashioned story free of today's self-centred tech-talk." Gwen Maysie


"The story line is more than plausible; with elements that touch many families - moving to a new home, single parent, short of money, societal stratification, facing the unknown, sibling dynamics. The author weaves these into a fast-moving narrative that should keep a pre-teen engaged, and soft pedals the preachy stuff that comes with the genre. Barbara McDonell has an easy talent with words and takes a very measured approach to some dicey situations. She cleverly paints the rich relationships in which her characters live, and gives them all a chance to grow, while not ignoring their foibles." Peter Frinton

"A delightful book! Although it's aimed at a young audience, I found it quite entertaining as an adult. The mystery keeps pulling you along, needing to know what happens next! And the intertwined story of the twins in their new home is well-told and very real. I loved it! I would absolutely recommend it to parents with children in the target age range, to cat-lovers, and to anyone who enjoys a good, innocent, well-written, interesting story." Stephanie Deakin

For a FREE Sneak Peek or purchase of Barbara's eBooks, click the following links:
Smashwords ( download a FREE Sneak Peek!) - scroll down and click "Also by This Author"
OR
US Amazon (Kindle) - in top window click "All", select "Books" and type in "barbara mcdonell"
Canada Amazon (Kindle) - in top window click "All", select "Books" and type in "barbara mcdonell"

iBooks (Apple)
Barnes & Noble (Nook) - "The Clutter Queen Spills!"
Barnes & Noble (Nook) - "The Bandit Cat Investigation"
Baker & Taylor (Blio) - in "Search" window, type in "barbara mcdonell"